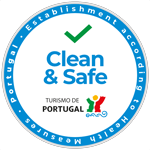 The safety and well-being of our visitors, employees and animals have always been our highest priority.
It is our goal to make you feel safe and comfortable throughout your visit, and for this reason, Zoomarine has the "Desinfection Monitored – Cleaning Checked" stamp by SGS that considers the park a low risk area for the transmission of the SARS-CoV-2 vírus. The park also has the "Clean&Safe" certificate from the Portugal Tourism which certifies good health and higiene practices.
The park is currently closed to the public, reopening on 12th April, 2022
We remain confident in being able to continue to carry out our mission of promoting knowledge, preservation and environmental education in a fun and passionate way.
PREVENTIVE MEASURES COVID-19
WHAT OTHER SAFETY MEASURES ARE IN PLACE?
Due to the evolutionary nature of this situation, these measures are subject to change without notice.
Failure to comply with park regulations and preventive measures is subject to the national legislation in force.
Updated: July, 16th 2021